COURSE OF THE PLEASURE OF FEELING…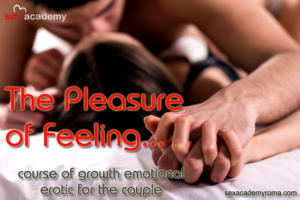 Woman and man, the magic of the love of two bodies that come together and merge into one soul. Making love is the most natural thing of this world, pure instinct of sexuality that is within each of us, but often our sexual life is not as satisfying as we would like.
Are we really good at bed? Do we really manage to please our partner? But above all, are we really satisfied with our sex life?
Instinct is sometimes not enough, and especially in established relationships, routine and monotony are likely to take the upper hand and make sexual relations less satisfying. For this reason we have created in the Sex Academy, an emotional erotic path of growth for couples, divided into 5 progressive modules, with the aim of increasing your erotic charge, giving you all the knowledge and tools necessary to improve your sex life. This growth path is realized by a couple of Sex Coaches, who will train and guide you to discover the "pleasure of feeling", 5 theoretical and practical encounters, where you will learn the techniques to realize an erotic massage; on how to make a perfect cunnilingus; until you understand the secrets of anal sex.
This route is reserved for couples only, and meetings will be established each time according to your needs; during the sessions there will not be other couples to participate, but only you together with the couple of Sex Coaches; meetings lasting two hours, divided into a first theoretical part and a second part of practice, where you will be an active part with the Sex Coaches, in the discovery of erotic and sexual pleasure.
The course is open only to couples
MODULE 1
Anatomy and physiology of Feminine and Masculine sexuality.
Couple Erotic Massage.
MODULE 2
Female and male genital apparatus
Yoni and Lingam Massage.
MODULE 3
Feminine and Masculine Sexual Pleasure
Oral Sex – La Fellatio and Cunnilingus.
MODULE 4
Feminine and Masculine orgasm
The Kama sutra and the positions of love.
MODULE 5
Sex Toys and couple games
Anal sex, pleasure for her and for him.
The route is made by a couple of Sex Coaches; the modules are progressive and designed to gradually increase the knowledge and the erotic charge in the couple, it is not possible to participate in a module, if before the previous one has not been attended.
Duration of each module: 120 min.
Contribution for single module: € 150,00
The course will be held in Italian language