COURSE OF EXPERT IN SEXUAL PRACTICES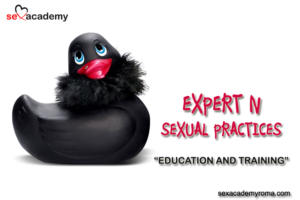 Talking about sexuality and sexual practices still remains a taboo subject for many people, education and training on these topics is practically non-existent, both in schools and within the family, and the sexual growth of each individual is often entrusted to the material that is found on the web, especially to pornography, or to the various life experiences, which many times if lived badly, can create blocks and sexual insecurities; knowledge and proper training makes us safer and makes us live a truly fulfilling sex life, both for us and for our partner.
The course in Expert in sexual practices, through a technical preparation, also aims to train consultants who can support the figures of the Sexologist and the Sex Coach.
The course is open to all: women and men
Program of the course:
MODULE 1
History of sexuality.
Sex through the centuries.
Anatomy and physiology of human sexuality.
Female and male sexual apparatus.
Female and male orgasm.
Female and male sexual pleasure.
Contraceptive methods.
Sexually Transmitted Diseases.
MODULE 2
Autoeroticism: female and male masturbation.
Yoni and Lingam massage.
Oral sex: Cunnilingus and Fellatio.
Sexual positions: from the Kama sutra to today.
Anal sex.
Prostatic massage.
MODULE 3
Sex Toys.
Couple sexual games.
Group sex and couple exchange.
Fetishism.
Extreme sex – BDSM.
Polyamory.
Type of course: Theoretical / Practical – Training hours: 16
Contribution per person: € 350,00
Reduced fee per person: € 300,00 (for those enrolling with at least 20 days notice before the start date of the course)
At the end of the course, the notes and attestation of participation will be released
To take part in the course and register, a deposit of € 50,00 is required for booking. The final balance will come directly on the day of the course. The course will be activated upon reaching a minimum number of 4 participants, if the minimum number is not reached, the entire amount of the deposit paid will be returned.
The course will be held in Italian language
. Minimum number of participants: 4 – Maximum number of participants: 12
Check the Scheduled Dates on our EVENTS